Gallatin River Task Force is "a public relations firm" for real estate and development in Big Sky.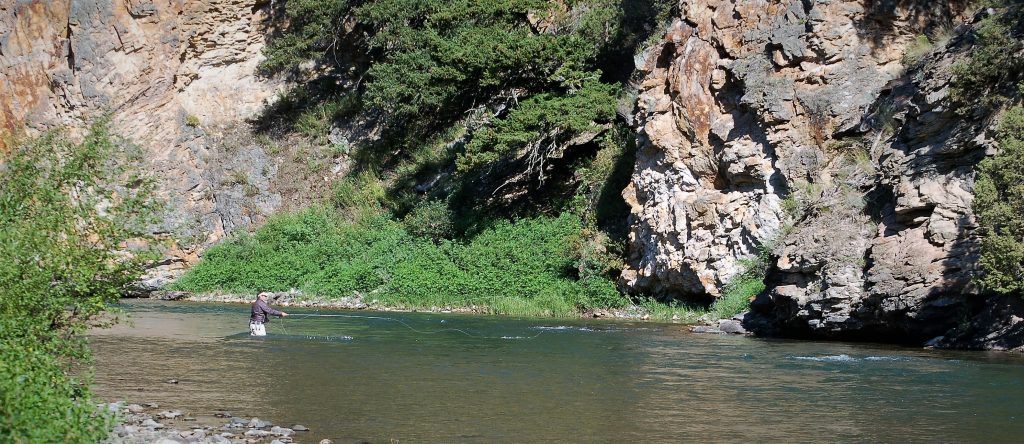 "When the stakes are high, do more than simply put the odds in your favor. Set up the game so you can't lose" – David J. Lieberman, PH.D.
After a recent provocative post published online by MFFM – calling into question Gallatin River Task Force's role in Big Sky's recent decision to build two pipelines – one for wastewater uptake for the planned massive development in the Gallatin Canyon, as well as "a second pipeline going back down toward the river for disposal" – Kristen Gardner, Executive Director for GRTF responded.

In doing so, she stated: "Regarding our organization – truth is we have accepted about half of your stated amount from realtors and developers and our board makes the decision of where those $$ our (sic) spent."

It was well advertised in Explore Big Sky – GRTF raised 1.2-Million during 2019 alone!
Ms. Gardner just revealed half of that figure, totaling $600K, was donated to her organization by Big Sky realtors and developers. It's clear from viewing their meeting-minutes – $500K of that "donation" came from one entity – Cross Harbor Capitol, which owns not only Yellowstone Club, but Spanish Peaks, and Moonlight Basin, ski resorts.
This revelation disqualifies GRTF from being a legitimate nonprofit conservation organization in the state of Montana, when 100% of the organizations' operational-costs are derived from a special interest group.

The GRTF needs to be reclassified as "a PR Firm for real estate and developers in Big Sky", so as to avoid confusion amongst the public with legitimate nonprofit conservation organizations.
There are far more important environmental conservation groups out here protecting the Gallatin River – like Upper Missouri Waterkeeper and American Rivers – organizations which make it a point not to accept large sums of money from private industries.
Interestingly, only moments after admitting this, Ms. Gardner then edits here original post to say "about a third" (though both posts still show-up in our feed).
Edited post – "Regarding our organization – truth is we have accepted about a third of your stated amount from realtors and developers and our board makes the decision of where those $$ our spent."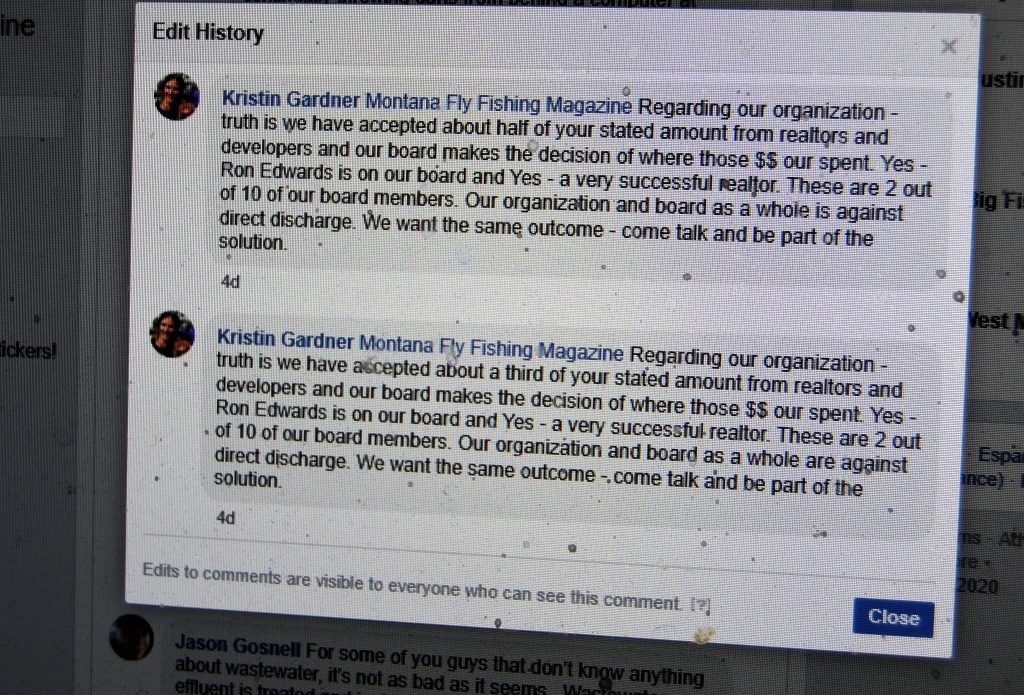 I used to think when people wrote sentences beginning with "truth is.." they were lying, but that turns out to be a myth, and I now realize they are actually finally telling the truth.
One thing I'm certain of, is one of these (above) statements is untrue.
The latter one is still 'live' on our page, a full week later, after it was edited, though I suspect it will be deleted within minutes of a member of GRTF reads this.
What I assume occurred was Ms. Gardner realized she'd just revealed the Gallatin River Task Force to be the very "PR firm" I called it in the provocative post, along with my calling the group-out as "not being a legitimate conservation organization."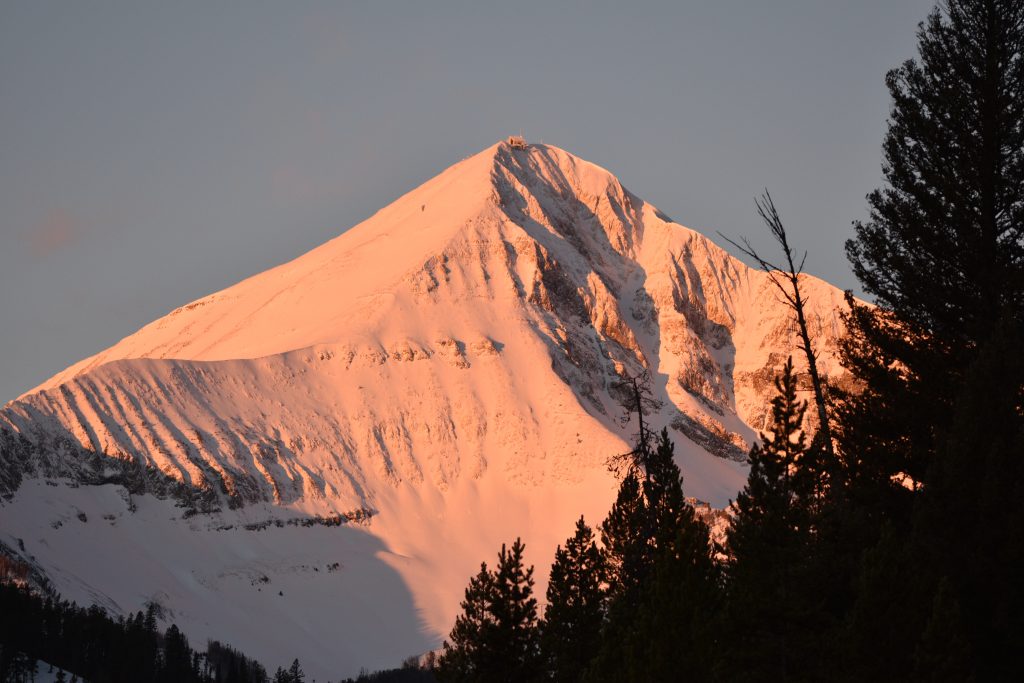 …She then thought – I should probably change that before too many people read it.
Unbeknownst to Ms. Gardiner – Facebook archives both versions, and all anyone has to do when they see "Edited", is click on it and this reveals what was removed or changed.
The entire staff of GRTF essentially works for Cross Harbor.
In fact, the man in the middle, Michael Duccenois – VP of Development at YC and also on the board of Big Sky Water and Sewer, is not only the one who brokered this financial arrangement between GRTF and Cross Harbor, according the internal GRTF minutes, but is one of the key people who is publicly spearheading "the second pipeline into the Gallatin Canyon for disposal".
In an even more frustrating situation, when the 2018 Gallatin River algae bloom occurred, stretching 4-miles downstream from the Westfork and clearly originating in Big Sky, there are indications in GRTF"s meeting-minutes that "donations to their organization actually increased"!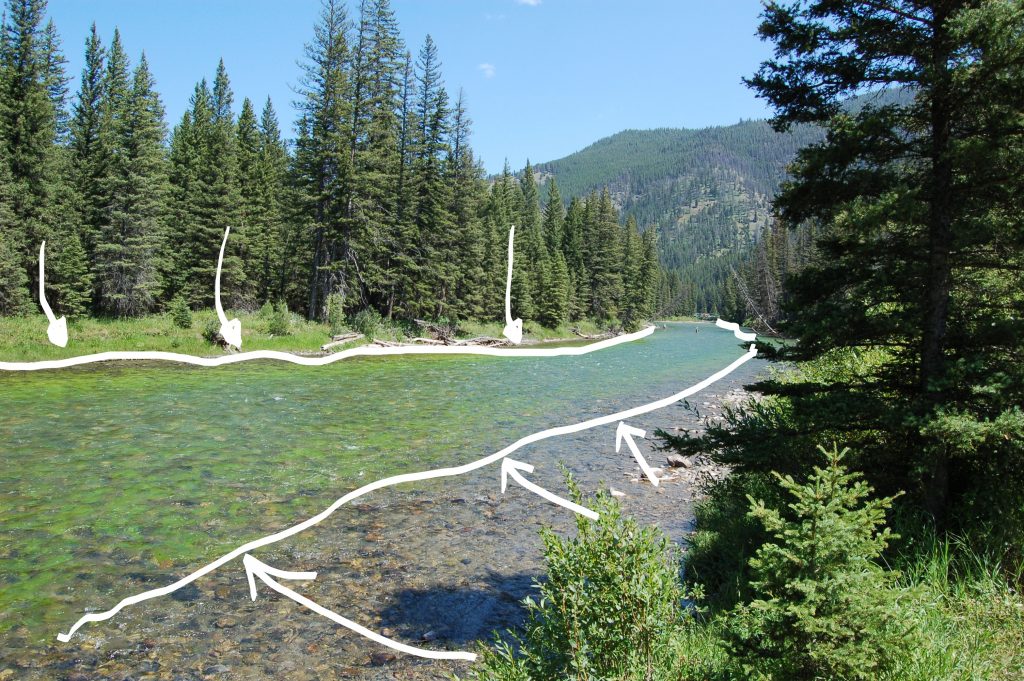 Independently-funded scientific research confirmed, what many suspected, it was the wastewater disposal methods from Big Sky's overdevelopment which caused the bloom in the first place.
Because no one prior to now has publicly shared that the Gallatin River Task Force was primarily a PR Firm for the developer and real-estate juggernaut, unsuspecting river users – fly fishermen, whitewater rafters, and those concerned about the future of the Gallatin – donated money to the organization thinking it would work toward stopping future algae blooms.
It turns out GRTF did, but not in the way many people understand. The following summer in 2019, according to Mr. Edwards – GM of the Big Sky Water and Sewer District (BSCWSD): "we sent the majority of the 180-million gallons of effluent up to YC to be disposed of using a new cannon they'd purchased and spraying it into the forest" (24/7).
Part of what Mr. Duccenois had prior referred to as: "Yellowstone Club's enhanced irrigation program".
GRTF then published several misleading articles in the local Big Sky papers, during the fall of 2019, touting that the Westfork of the Gallatin did not experience the algae blooms, as it did during 2018, suggesting the prior bloom was related to water temps, weather patterns at the time, and delayed run-off – knowing full well the majority of the effluent had intentionally been diverted elsewhere by BSCWSD to avoid a repeat of the event.
After all, Mr. Edwards is also the longest serving board member of GRTF (and "a very successful realtor"- according to Ms. Gardner).
Now all of these same exact actors, including everyone at GRTF, are working towards doubling capacity at BSCWSD (est. cost $35-M), in order to "double the size of Big Sky"!
A secondary project GRTF has taken on at the same time, at the direction of its' board of directors, is building a lift-station redirecting wastewater from the new massive proposed "Quarry canyon development", then adding a 2nd pipeline -sending effluent from Town Center's Sewer Plant back down to the Gallatin Canyon "for disposal".
…Except in order to accomplish all of this – they need the 3,000 local voters to approve the 1% increase in resort tax, so the developers don't have to pay for any of it.
Many Big Sky locals won't look closely at the details of these proposed "wastewater infrastructure projects" and vote for the 1% thinking "it only taxes tourists", not realizing the funds have already been allocated toward a 2nd pipeline into the canyon. Even fewer, perhaps less than 2,000, will even vote on it. Those that will however, and in-favor of this you can bet, will be those who work or depend on Big Sky real estate and development.
The local leaders working for Cross Harbor and steering this idea forward toward success are counting on it.
.……….
At the end of the day, the Gallatin River Task Force is what a major Big Sky Developers' idea of what a conservation organization should look and act like.
Little more.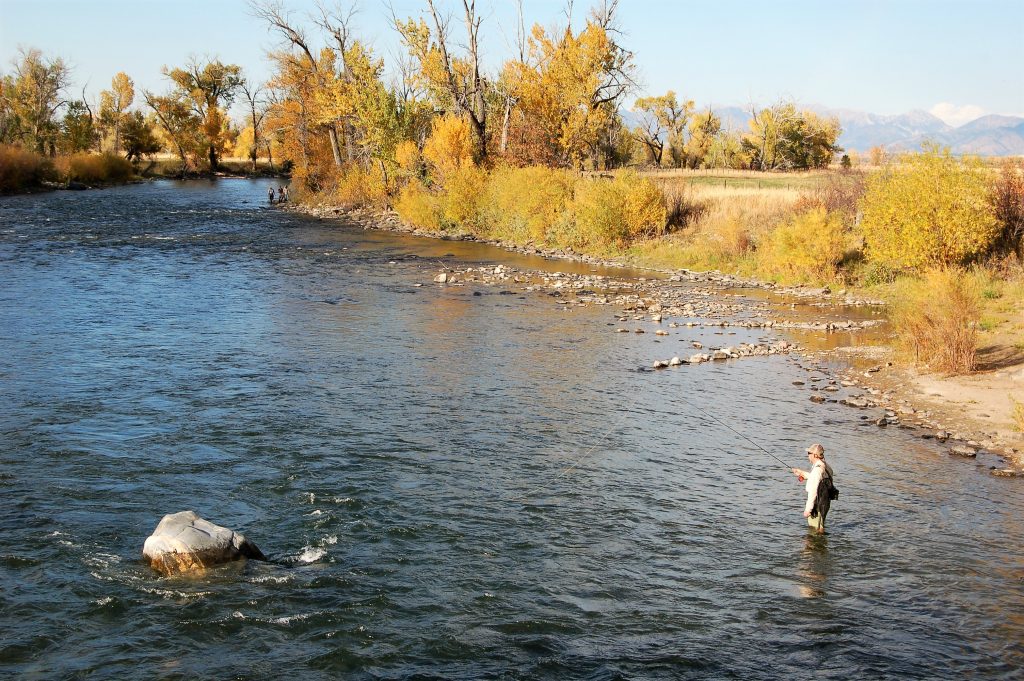 If you want to truly help the Gallatin River through these troublesome times of canyon over-development, and to beat-back the Big Sky developers' efforts to directly-discharge effluent, then consider supporting Upper Missouri Waterkeeper or American Rivers.
They're the two groups we continually see showing up and speaking out at every meeting. They're the two legitimate conservation organizations doing the heavy-lifting – truly protecting this amazing river!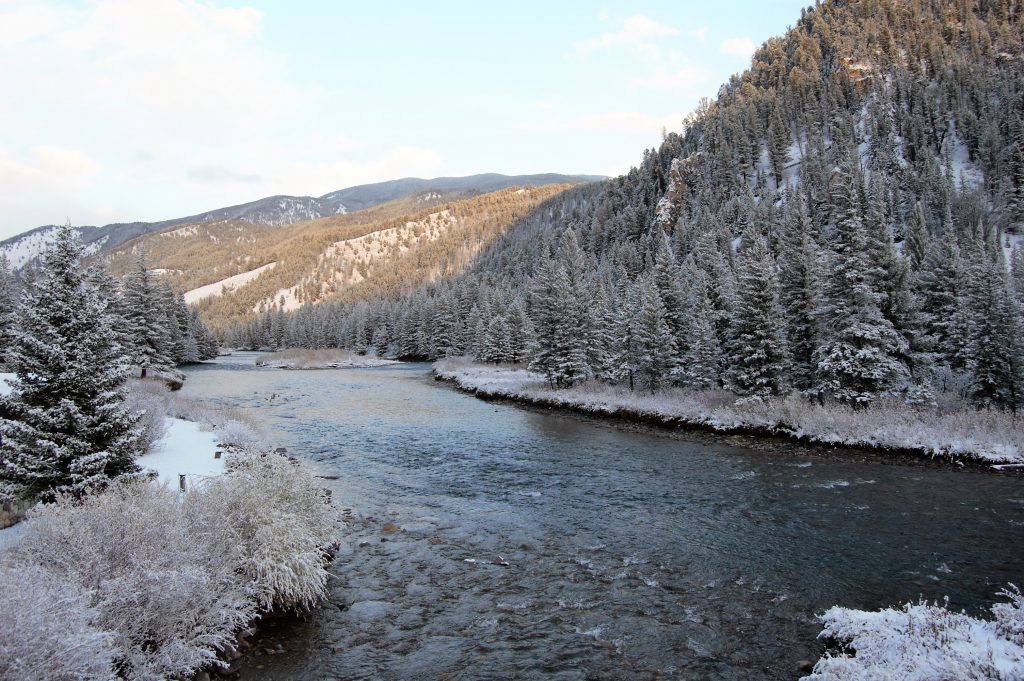 Note: This article was written independently by Greg Lewis, of Montana Fly Fishing Magazine, and neither UMWK or American Rivers orgs or it's leadership previewed nor authorized the article before publishing.