Visit our Facebook Page for our Latest Giveaway.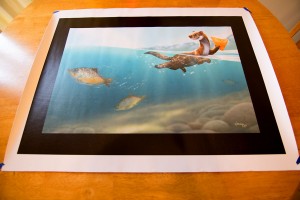 This giveaway is now closed.
It's Giveaway Time!
In our last issue, we were privileged to bring you a bit of artwork from Joshua Spendlove, who created the humorous illustration for "Beware of the Trout Weasel" by Christian Shane. We've teamed up with Joshua to offer a 21″ x 28″ Giclée print of this image to one of our fans through a Facebook drawing.
To enter, simply like, share, or leave a comment on this Facebook post between now and 5pm MST, Tuesday, March 10. One recipient will be chosen at random from the names submitted and announced Wednesday morning, so be sure to check back on our Facebook page after that time to see if it's you!
You can view this print and all of Joshua's other great work at his Etsy shop: