Why is Big Sky Pursuing Direct-Discharge into the Gallatin River…
Answer: "A Fiduciary Responsibility to its (nonresident) Investors…"
Big Sky's major developers' are now starting a new PR campaign for direct-discharge into the Gallatin River (beginning in 2018).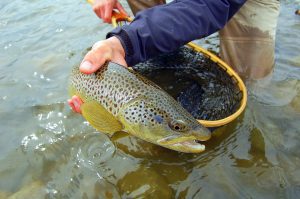 It has been revealed in following Water Sewer District meeting–minutes (below), that some on the board, as far back as late February 2017, began to worry the GRTF's Sustainable Solutions year-long Forum might not workout in their favor, even after a half-million was diverted toward the endeavor, so they proposed another newer PR campaign for discharge.
What you're reading (below) is pulled directly and unedited from BSWSD meeting-minutes, back in Feb. 2017.
WSD 363 Meeting Minutes of February 21, 2017 Page 2 of 5
The board discussed the need for a PR campaign for presenting the project to the public. Ron Edwards (of GRTF) feels this is being done through the public meetings through the sustainability water solutions group.
According to Steve Johnson, there is minimal participation from Big Sky community members in this group.
An additional PR campaign is needed. The board consensus was that the District has a fiduciary responsibility and moral obligation to get its information out through its own PR campaign. The community needs to know that the District has turned over every stone to solve capacity issues for the building growth for Big Sky. It was noted that the District could include printed information in its quarterly statements.
President Cronin directed Edwards to put on the next meeting's agenda a report on what the District/Board could do to be proactive on the issue of providing capacity for build-out and how Edwards is going to advise the board on how to address the issue through dissemination of information.
 
…………….
Poor Effertz?
Flash-forward to February 13, 2018…
Big Sky Water and Sewer District has now hired a new PR firm – AE2S Communications based in Bozeman. The leading strategist is Maria Effertz Hanson.
Gallatin River-users can soon expect to read articles published in numerous local media and online, focused on the main talking-points listed below; those directed by the board at BSWSD:
•"Educate the public on the need for direct discharge to the Gallatin River, and advanced wastewater treatment capabilities to produce extremely good water quality"
•"Provide messaging regarding wastewater treatment and disposal needs and environmental health and safety"
•"Maximize credibility of the Big Sky Water and Sewer District staff and board"
•"Embrace the needs for diverse solutions while maintaining adequate services for current and future residents"
source: http://lonepeaklookout.com/news/questions-remain
Snowmaking
The 36-stakeholder PR campaign was "a bust" (for developers), after GYC, American Rivers', and Trout Unlimited-members', numbering into the thousands, found out what their local-leaders were up to and applied direct pressure.
Instead, the 36 stakeholders would not agree to discharge and are now pushing for "snowmaking", announced in November 2017 (officially on Jan. 31, 2018).
https://www.newsdeeply.com/water/articles/2018/02/05/why-a-posh-montana-ski-town-may-use-treated-wastewater-for-snowmaking
That is not what the developers wanted to hear.
Snowmaking has been tossed-around as an idea for ridding Big Sky of its' effluent problem for years. In fact, some of the same people involved in this more recent newsworthy direct-discharge saga, including leaders at GRTF, even conducted a pilot-program several years ago at Yellowstone Club using a snowmaking-machine testing it on certain terrain. The Montana DEQ said it would work, and everything was on-track, but ultimately the private ski club developers' balked at the bad PR – "the thought of making snow with treated wastewater". 
Yuk!
Instead, Michael Duccenous, VP of Development at the Yellowstone Club, grabbed a seat on the Sewer District's Board of Directors in late 2015 – approximately six months before his company broke-ground on the $300-million dollar Village Core construction project (touted as "the largest real-estate project ever in the state of Montana"), and the subject of direct-discharge into the Gallatin River have been on everyone's mind ever since.
https://www.bozemandailychronicle.com/business/real_talk/regional-economy-is-thriving/article_c256f0d6-be35-56c5-a693-3a7d08980115.html
…………
Montana Fly Fishing Magazine's article titled: Big Sewer Country 2020 – was published in our Spring 2017 Issue, in late April. As people around the world read what was occurring in Big Sky, in regards to potential direct-discharge into the Gallatin River, the fly fishing and whitewater-rafting community rallied and helped further spread the word…
That's the power of social media right there, an informed-public is a powerful tool!
Unfortunately…
Now the key-developers in Big Sky are pursuing another PR campaign, beginning in 2018, and are already attempting to tap into social media toward achieving direct-discharge.
However, they no longer have unlimited access to "the piggy-bank" known as the Big Sky Resort Districts Tax Board.
They also now have Trout Unlimited, Greater Yellowstone Coalition, American Rivers, Upper Missouri Waterkeeper, and Cottonwood Environmental Law, in vocal and written objection to their direct-discharge plans.
Greg Lewis
Publisher/ Montana Fly Fishing Magazine
………….