Yellowstone River FWP Source Material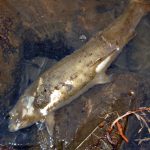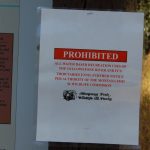 2016 Mountain Whitefish Kill on the Yellowstone River Finalx
The link above is a PDF of the FWP source material obtained by Montana Fly Fishing Magazine showing numbers of trout species killed also. This information begins on roughly page 18-19, though the document isn't numbered.
What you're looking for are statements such as: "PKD may have had a population-level effect…". There are several of these, following samples taken after floating certain stretches of the river in spring 2017.
Ex: The decrease in abundance is large enough when compared to previous estimates that PKD may have had a population-level effect on Rainbow trout in the Mill Creek Bridge Section. It should be noted that factors other than PKD may have contributed to the decline in abundance (e.g., drought conditions, spring runoff, etc.).
EX: There may have been a population-level effect on YCT in the Mill Creek Bridge Section as the result of PKD, other biotic or environmental factors, or a combination of factors.
EX: Brown Trout: There was a decrease of 58.4% from 2016 to 2017 of fish in the 13.5 to 21.0-inch range. The largest individual length group decrease, 8.3%, occurred in the 16.5-inch group.
These results indicate there was a population-level effect as the result of PKD, other biotic or environmental factors, or a combination of factors. The decrease in larger fish could have been the result of multiple factors including PKD, fall spawning, and/or ice jamming on the Yellowstone River in winter of 2016/2017.
The map provided in the document shows those highlighted-sections FWP floated and shocked fish in order to come to these counts and conclusions in 2017. What's interesting are the tens-of-miles between these locations which went unchecked for trout numbers, for roughly 50-60 miles total. If you calculate the miles unchecked versus the figures surveyed, you get easily into thousands of trout missing/dying on the Yellowstone River between 2016-2017.
NOTE: On page 2 of this document a short paragraph states: Initial histological examination of MWF indicated that the fish were heavily infected with the PKX parasite, the parasite was found in most tissues within the fish, as well as the kidneys. The MWF's naïve reaction to the parasite infection suggested a recently introduction of PKX into the Yellowstone River. 
This sentence (above) indicating the Mountain whitefish in the Yellowstone River were naïve to PKD, conflicts with information provided in the initial interview with a 30-year expert on the subject in the 2018 issue of Montana Fly Fishing Magazine.